Jennifer Wallace, Carnegie UK Trust, @Jen_CarnegieUK
Earlier this month I attended a Scotland's Futures Forum seminar on a wellbeing economy at the Scottish Parliament. The event, a collaboration between the Futures Forum, the Economy, Jobs and Fair Work Committee and the newly formed Wellbeing Economy Alliance (WEAll), heard from a range of thinkers and doers who are building the case for a wellbeing approach to the Scottish economy.
We heard from Katherine Trebeck, whose podcast is available here, on the fallacy of trickle down economics and the 'diminishing marginal returns' to GDP growth in terms of delivering social progress.
There were remarks also from Peter Kelly from the Poverty Alliance covered the importance of treating the systemic causes of poverty not just administering to those who are most harmed by it and also from Andrew Cave from Baille Gifford who reflected on the extent to which these conversations are 'less heretical than they might sound' since businesses and pension fund managers are also asking such questions in the face of corporate scandals and mounting evidence that the system is 'in peril'.
"Our levels of economic inequality and our continued attachment to traditional economic thinking indicate how far we have to go."
In the stimulating conversation with MSPs that followed, it was clear that no one thinks Scotland is at the global forefront of the movement for wellbeing economies. Our levels of economic inequality and our continued attachment to traditional economic thinking were highlighted as indicators of how far we have to go. At one point we fell upon the perennial conclusion that we need a wellbeing movement to make the case for change and to support those who are rolling up their sleeves and starting to deliver it in their communities and businesses.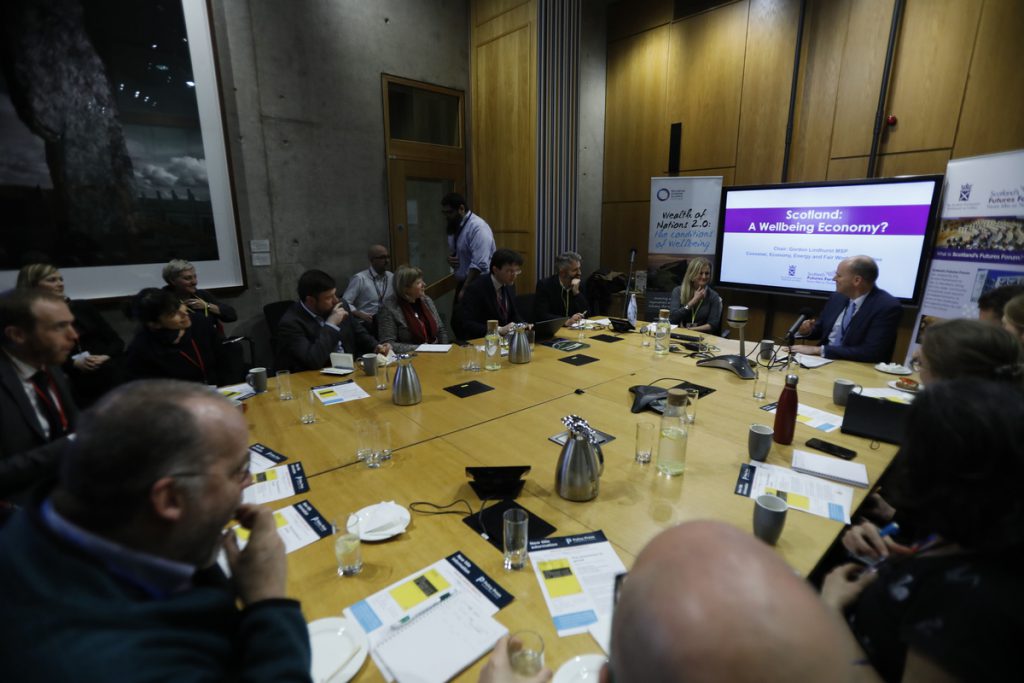 As someone who is both Scottish and part of the international community of wellbeing 'folk' I see something of a paradox in this. Scotland clearly already has the conditions to build a wellbeing economy. The National Outcomes, now with statutory weight through the Community Empowerment (Scotland) Act 2015, take GDP off its pedestal and put it at the same level as our other outcomes: those that are environmental and social in nature. There is cross-party support for this approach and the Scottish Government is a founding member of WEGo – an alliance of wellbeing economy focused governments.
In terms of a movement for change, Scotland is a key player in WEAll – the wellbeing economies alliance. We should be proud of that status and the opportunity it gives us. And we have a public that understands the connections between inequality of income and inequality in health – half of us attribute our poor health as a nation to poverty. That inequality and wellbeing are inextricably bound is not a surprise to most people.
So we have politicians and government committed to the approach, we are home the network of the best international thinkers on the issue and we have a public that broadly understands what we are talking about. What on earth is missing?
"The changes coming down the line in the next ten years are beyond what most of us can conceive."
I think there are two key issues here. Firstly, I am not sure we have collectively explained to the media what Scotland is trying to do or the consensus that there is around new economics? When it is a discussion of how Scotland is outperforming England the Scottish media is often on side, but when it comes to the budget, the need for preventative spending, the need for redistribution and a green economy, they often fall back on those traditional arguments of GDP good, everything else bad. The National Outcomes don't appear to be part of a media narrative at all, compared with say the Welsh Wellbeing Goals. This is holding back our national conversations.
Secondly, we have a challenge in terms of implementation. Like any paradigm shift, this new information is gradually absorbed into the system and acted on, but it is uneven and mediated by power, culture, bureaucracy and relationships. We should take pride in how far we have come rather than act like the child in the back of the car asking 'are we nearly there yet!'.
Despite our heritage, we are not good at telling stories of change in Scotland. We need to become far better at linking the stories of local transformation of places to a wellbeing approach – not just a Scottish approach to government but a new, modern Scottish social contract. Fortunately, this is something WEAll Scotland is planning to work on as core to its mission of supporting the 'chinks of light' that are already there, but currently battling against the grain.
The changes coming down the line in the next ten years are beyond what most of us can conceive. Any basic PEST, PESTLE or STEEPLE analysis can tell you that. Scotland has the building blocks to approach those challenges with new thinking. We already have a movement for change … by 2030 we will have had to put it into practice.
---
Jennifer's book Wellbeing and Devolution: Reframing the role of government in Scotland, Wales and Northern Ireland is available open access available via Springer Online.